Graphic design is so popular these days that almost every type of business needs it because every employer somehow needs to promote the ideas of their brands or businesses. But graphic designing has been running for years we cannot imagine. We always think that this has been the trend for modern times, but this is not true. The historical traces are found from the 15th century if we talk about graphic designing. It is that old. But before proceeding to the historical advancements, we must first know the meaning of graphic designing.
What is the meaning of Graphical Designing?
The art of representing ideas and messages in a visual form with a combination of texts and images is known as graphic designing.
Historical Era of Graphic Designing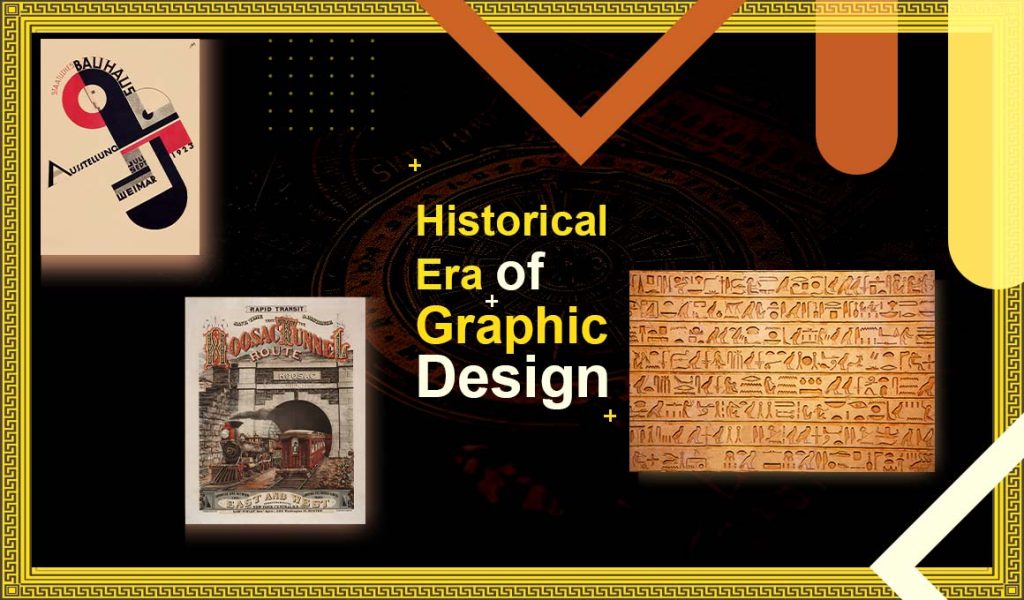 Let's talk about the traces of graphic design from the olden periods. You may have seen your history books in your schools with the images and texts on the walls collectively, which were there to denote some kind of messages and ideas, and through the texts and images nowadays, that same work is done in graphic designing. That gives us evidence of how it has been there for ages.
Ada Schools is one of the prime examples to display the usage of graphic designing in the olden times. Thus, from historical evidence, we get to know the proof that graphic designing is not a concept of the modern world; besides, it is more of an idea from the ancient ages.
Proofs by Early Writing System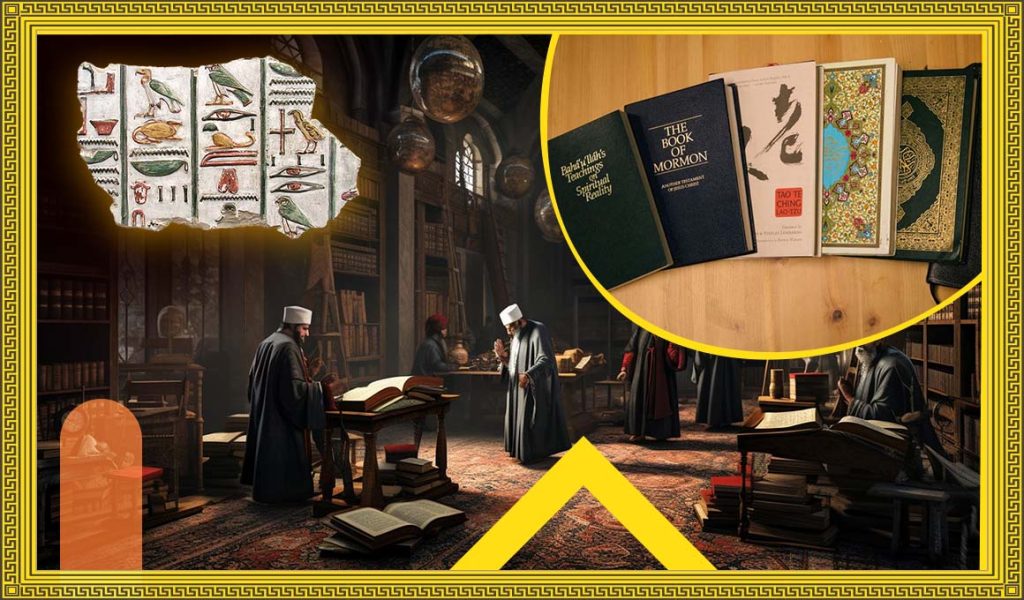 An early age writing system does not directly but indirectly relate to graphic designing. At the beginning of 3000 BCE, Egyptians used a writing system called Hieroglyphics. If we talk about Hieroglyphics, it is a combination of pictographic and alphabetic elements, which is related to graphic designing if we look from another perspective.
Shreds of evidence from Religious Texts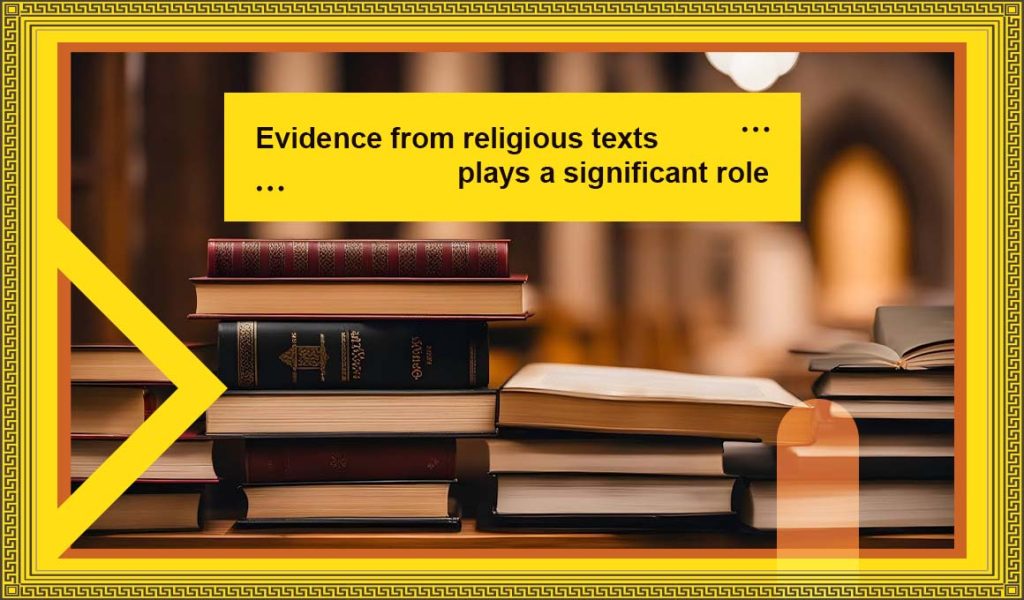 If we talk about the historical evidence about graphic designing, the evidence from religious texts plays a significant role. Now we all know how old it was when they were written. This definitely clarifies the statement that graphic design has a long history.
Calligraphy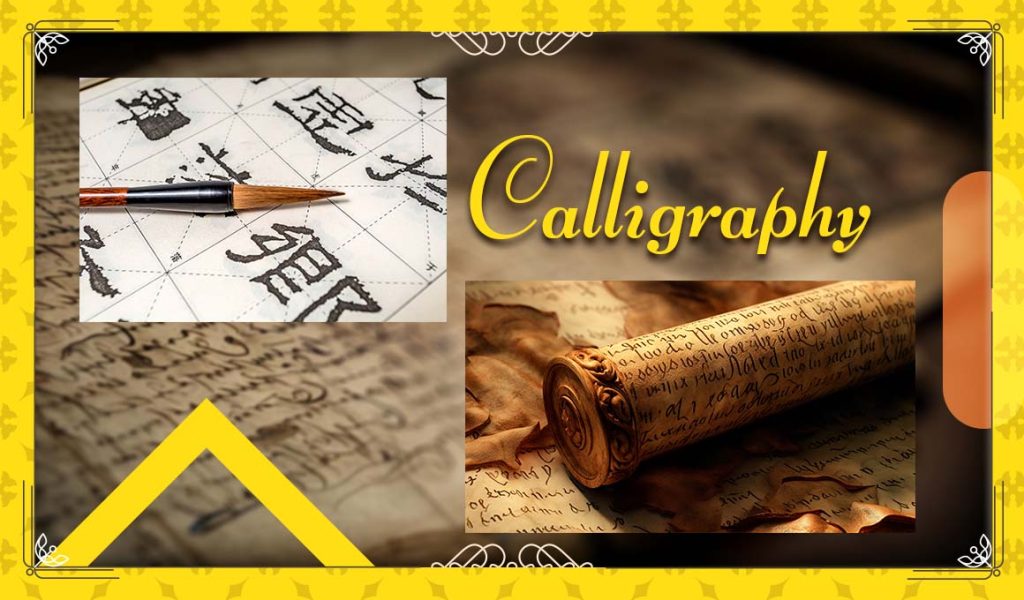 Let's talk about the connection between calligraphy and graphic design. It needs no explanation because we use those types of fonts in our designs, and the existence of calligraphy is from thousands of years ago. Its origin is from the countries of the eastern part of Asia countries, like China, Japan, Korea, Vietnam, etc. So, graphic designing also had a major role in those years. If we look at calligraphy and graphic designing simultaneously, we may notice similar properties that the arts share.
The first factor that we may notice is aesthetics. Aesthetics is a property that both the arts share with each other. Other than aesthetics, Communication is the factor that both creative arts display because the idea remains the same. They have to share an idea. Typography is another factor considered as a similar property in both of them. Other than the typography, the composition is quite important in both. Lastly, craftsmanship is something that both a calligraphy artist and a graphic designer share with each other. Thus, there are so many similar properties that calligraphy and graphic designing share, and thus, from these things, we learned about the historical evolution of graphic designing.
Engraving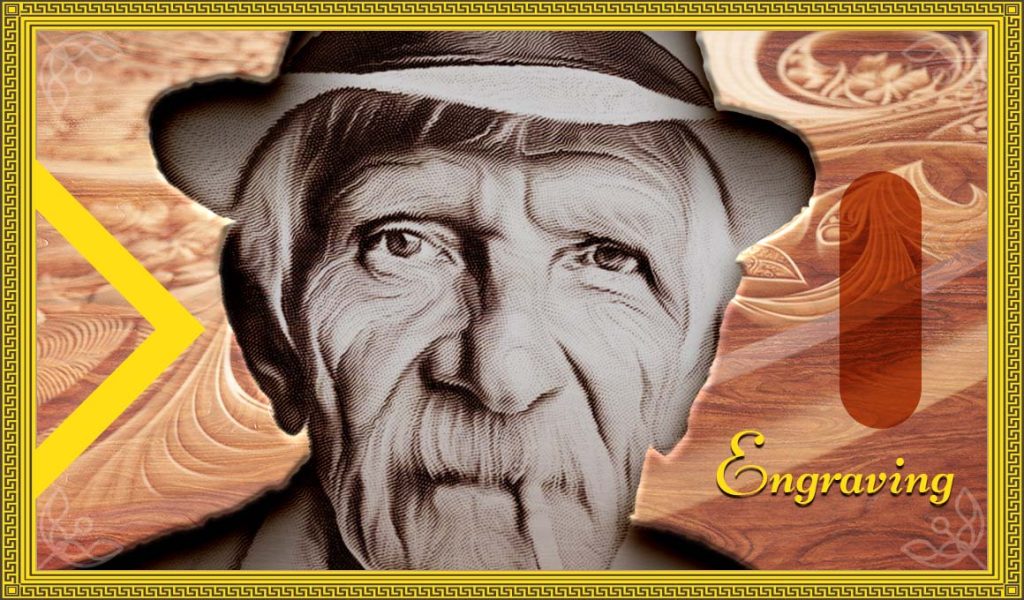 This was another historical proof that explained the evidence of graphic design from those times. So, they used to engrave the picture and text on the hard surface, showing the connection between engraving and graphic design.
First Graphic Designer Software
The first graphic designer software was Sketchpad. The development of Sketchpad was done by Ivan Sutherland in the early years of the 1960s.
Timeline of Some Major Graphic Designer Software after Sketchpad
If we talk about some of the major graphic designer software that was made after the development of Sketchpad, then they were as follows:
Macpaint: After the development of Sketchpad, macpaint was developed by Apple in the year of 1984 for Macintosh.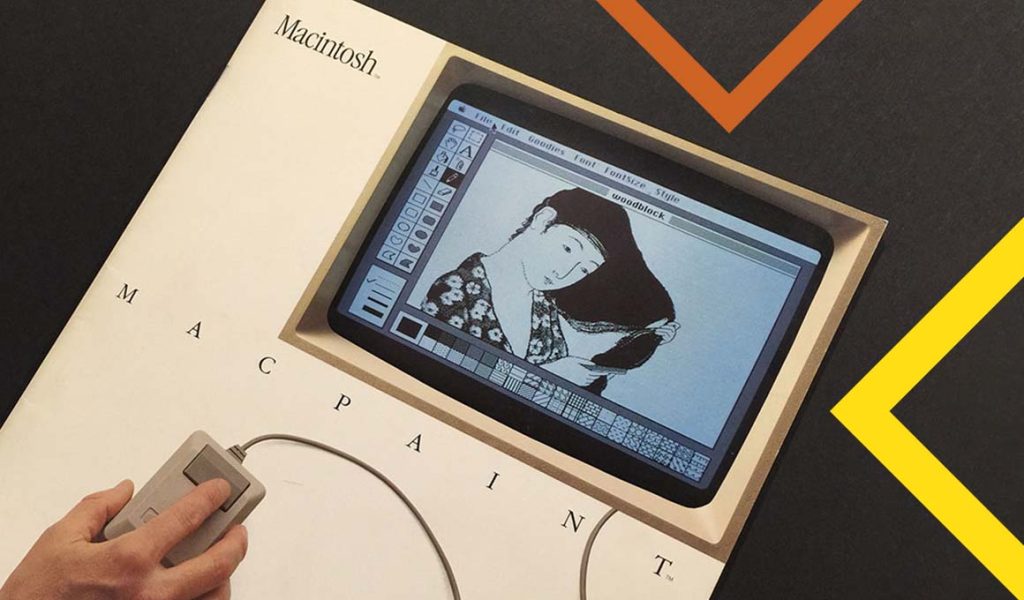 Adobe Illustrator: Adobe is widely used and known in the field of Graphic Designing, and the development of Adobe Illustrator was in 1987.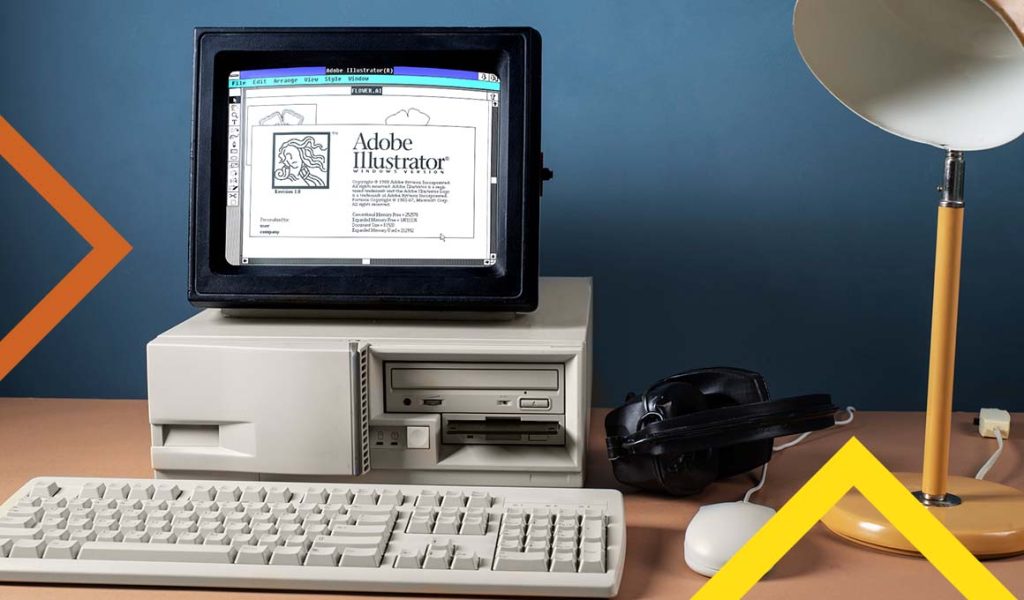 QuarkXpress: This was a desktop publishing software which came in the year of 1987.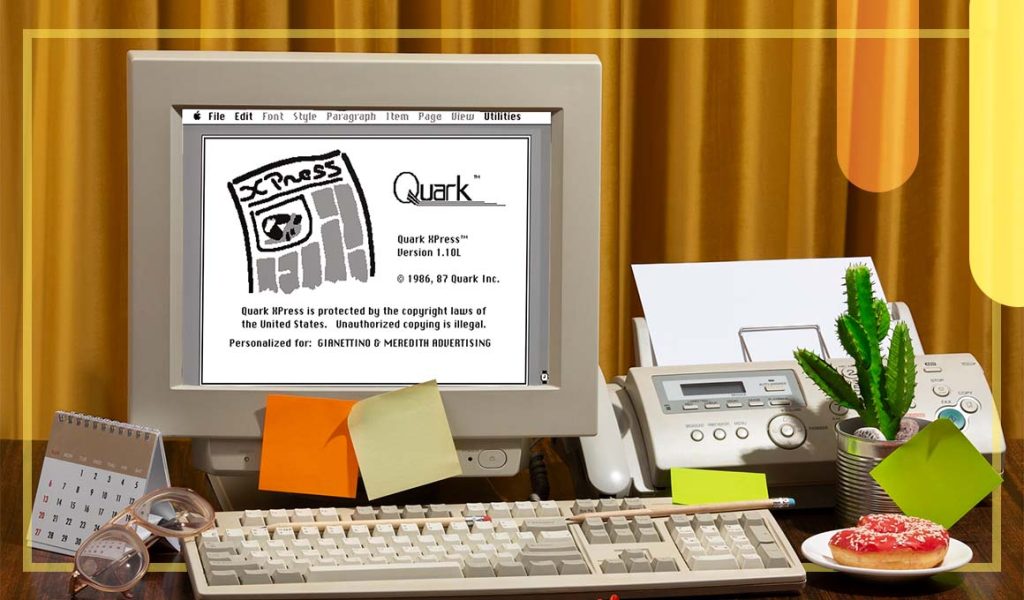 Adobe Photoshop: If you are in graphic designing, this is a name you may have heard from everywhere due to their advancements in the field. Adobe Photoshop came in the year of 1988.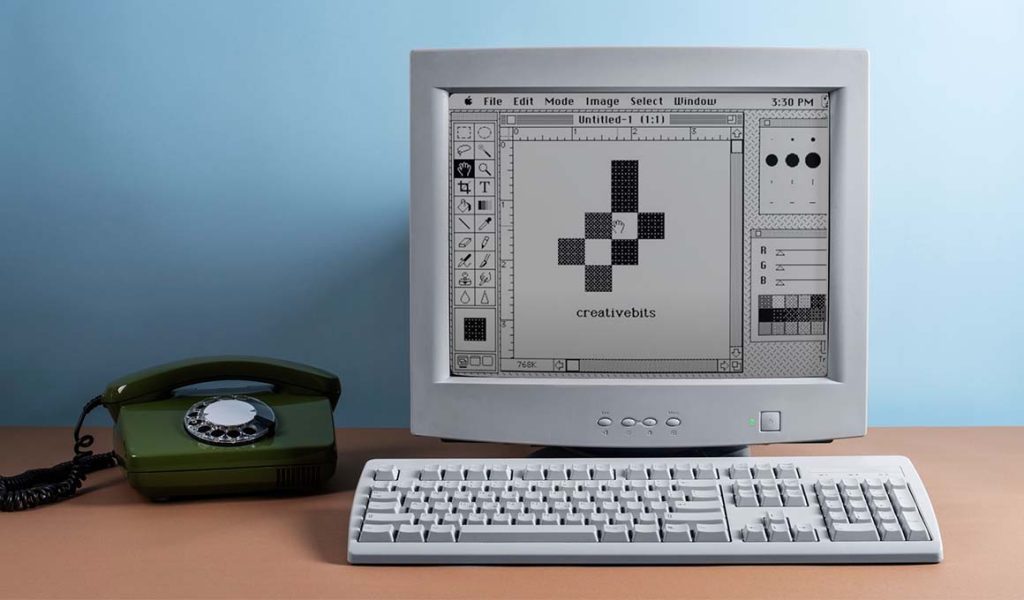 Corel Draw: This software came in 1989 and functions like Adobe Illustrator.
Thus, these are some examples of graphic designing software that were made at that time to advance the field. Software like Adobe and Corel Draw are still some of the topmost players in the industry. So, this has been a long journey of graphic designing. From the Walls to the Computer Software, this was a big journey.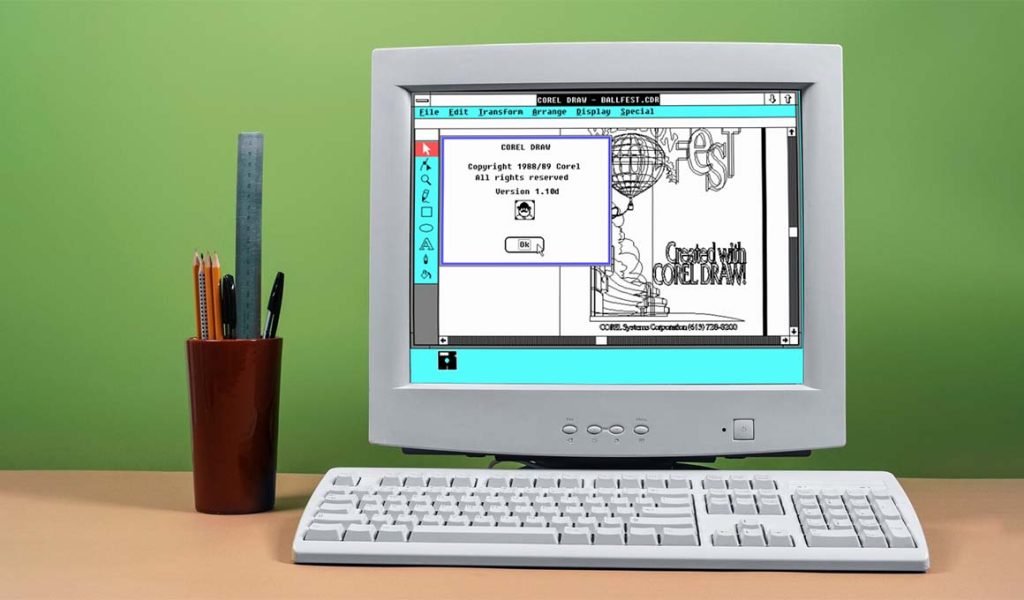 Importance of Graphic Designing
The historical journey of graphic designing is too big, and clearly, it signifies how important it is that it has been running for ages. But why is it so important even today, where everything changes in seconds? In this vast technical world, the method used in ancient and medieval times is still used.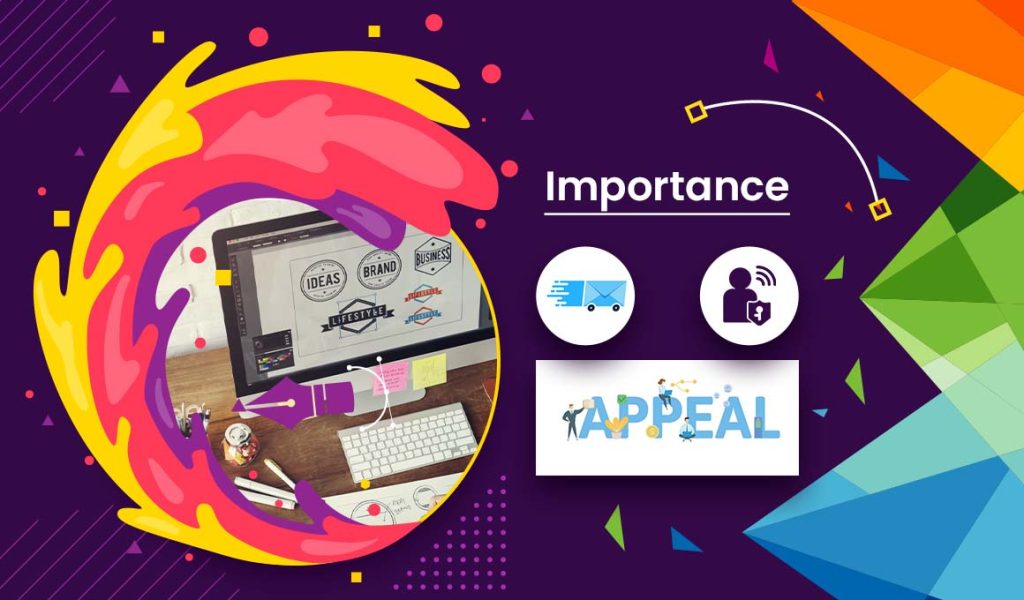 Let us explore the importance of graphic designing as follows:
Delivery of Message
If we talk about graphic designing, then the delivery of a message or communicating the idea is the most essential factor. The whole point of graphic designing is to denote or dictate something, and that is what it is for.
Personal Identification
Personal identification is the factor that should be counted in the list of importance because graphic designing is mostly used for businesses, and their main interests are in rewards. Their branding, so if we talk about graphic designing, it helps them to do good branding that helps them uniquely identify themselves.
Appealing for Users
Graphic design makes the content more appealing and attractive to the users or customers, influencing their usage and moods. So, the visually appealing factor increases the importance of graphic design.
Modern Graphic Designing Tools
Now that we have traveled a long journey from the walls to the software, we can discuss some tools modern graphic designers use for an enhanced experience. The tools that modern graphic designers use have a lot of features which is of great help in their work. If you want to be a graphic designer, ensure you have some of these tools because they will greatly help you in your graphic design journey. The tools that we are talking about are as follows:
Adobe Creative Cloud
The collection of creative clouds is like heaven to the people in graphic design because they have Photoshop, Illustrator, InDesign, and many other things. If you have a graphic designer friend who wants to give them something, then this is the bundle of dreams you can gift to them. It is in demand due to its high quality and exceptional features.
Sketch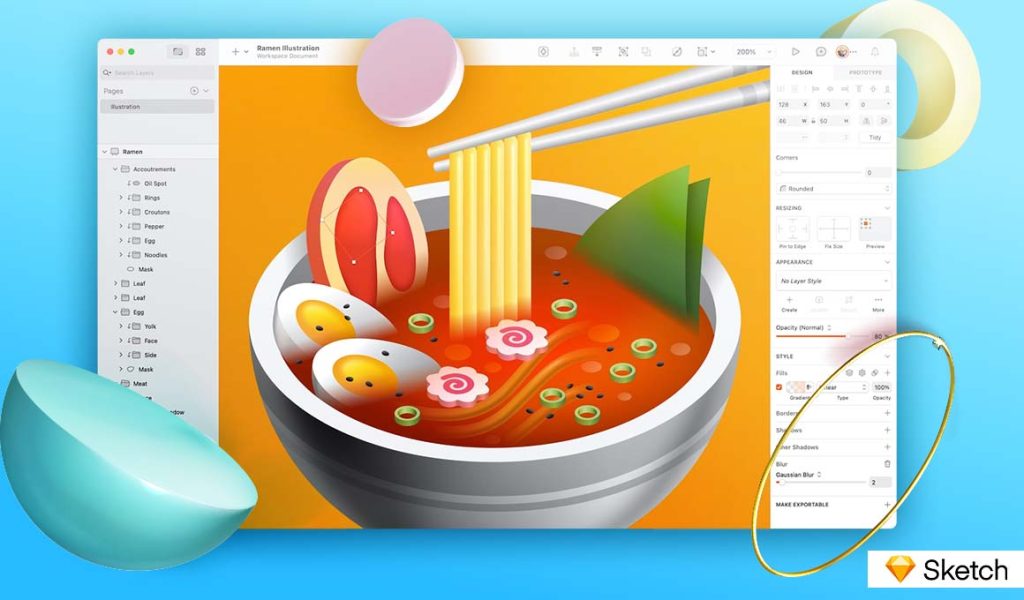 Sketch is a vector-based design tool specifically for UI and UX designs. The range of tools and products that they provide is wide. It helps to provide high-fidelity designs for web and mobile applications. Sketch is a great tool used by graphic designers, and due to its quality features, this is one of the recommended choices for graphic designers.
Canva
We all use Canva for various tasks like editing images or creating designs for different purposes. Nowadays, canvas has a great trend, too, which is simple to use, and this comes in the favorites of Graphic Designers, too, which is quite great. So, if you want to become one, go ahead with Canva.
Corel Draw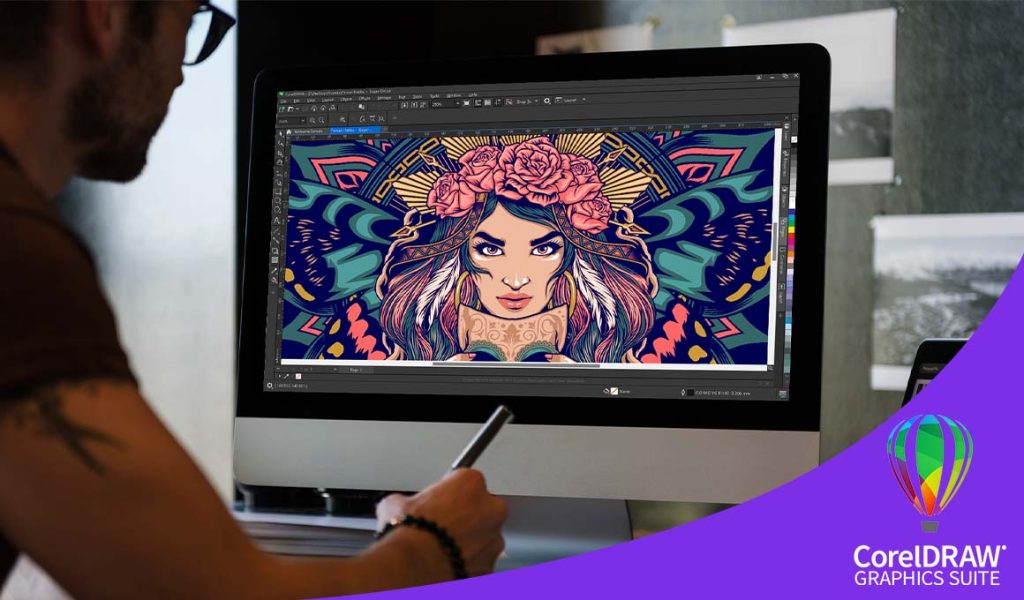 Corel Draw is also a popular graphic designing software used for illustrations and artwork, logo design, print design, signage and large format design, web graphics and user interfaces, packaging design, etc., which is quite great. Corel Draw is one of the great tools in the industry.
Usage of Graphic Designing
If we talk about the usage of graphic designing, then many industries deal with this field.
We will try to provide you some common understanding and a basic preview of the industries where it is used, and they are as follows:
Advertising and Marketing
Well, this is one of the industries for which graphic designing is used. Advertisements, promotional ads, brochures, marketing campaigns, social media ads, and many other things are used for advertising and marketing. Graphic design has a wide range of roles in this industry, which is quite big.
Print Design
If we talk about the industry of print designing, then it has a wide coverage. Brochures, business cards, magazines, newspapers, books, and many more other things cover so conclusively if we talk about the dominance of graphic designing in this industry, then it is huge.
Product Design and Packaging
This industry also demands the usage of graphic design. Product packaging, labels, and branding elements other than the product design. So this area also has a coverage of Graphic designing, which is totally huge.
Animation
Graphic designing has a huge scope in animation, too, where they use various factors like typography illustrations and other effects in animated videos to convey the message. So this is another sector that has a huge impact on graphic design.
Not only these sectors, there are so many other fields or industries for which it is used. We can take an example of UI and UX designs and many other things. Thus, this is how it has evolved and reached these stages to provide us so much more than expected.
Scope of Graphic Designing in the future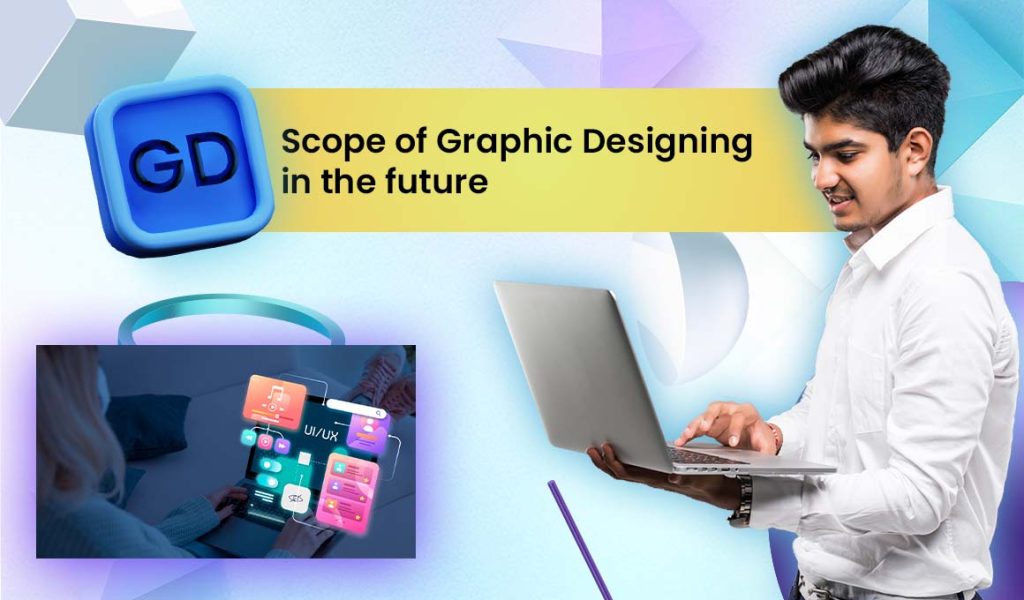 If we look at the scope of graphic designing in the future, it is a promising field. So not only in the past but in the future too, it has a wider scope, which is totally great. Well, some factors also tell why the scope is good in the future. If we look at the growing importance of visual Communication, then it has a high demand. Due to its increasing importance, the scope is great for the future, too, and if you are thinking of doing this, then you may have a good chance. This digital transformation era is opening some good opportunities for graphic designers. The market for UX design is quite high, which clearly states that this graphic design has a good scope. Businesses do need some great branding, so in that case, too, it has a good scope. There is also a need for graphic designers for AR and VR technology, which is increasing the demand for Graphic design in the future. All these reasons collectively show that graphic designing has a great future, too, and how this demand is increasing day by day.
Conclusion
This was a long journey for graphic designing. The traces clearly state that this has not been used for the first time in this century, and its existence is from a long age. Graphic design has its own importance in the technical world, and we have seen its importance from the past to the future, which is quite huge. Visual Communication is truly a great thing that communicates our thoughts and messages, and for centuries, people have been using them for conveying information.
From the past historical proofs, we get to know about that. The usage of tools for graphic designing is also slightly different from the past, but tools like Adobe are still in use because of their exceptional features in this industry. Graphic Designers have the potential to give your business an identity by branding. Their major contribution to the advertising and marketing industry tells about the importance and scope of Graphic Designing for the upcoming years. Thus, this technical concept has its roots from centuries ago, and from the research in the upcoming years, we will learn about the importance of graphic designing and its tools shortly. In the end, if you want to experience graphic designing on a high-end note, you may use the listed tools to get a great experience in graphic designing.